Tickets
There are various ticket options available for Clemson Football
Memorial Stadium Map
Death Valley Stadium Map
Memorial Stadium is located at 1 Avenue of Champions, Clemson, SC 29634.  Full Stadium Map can be viewed here.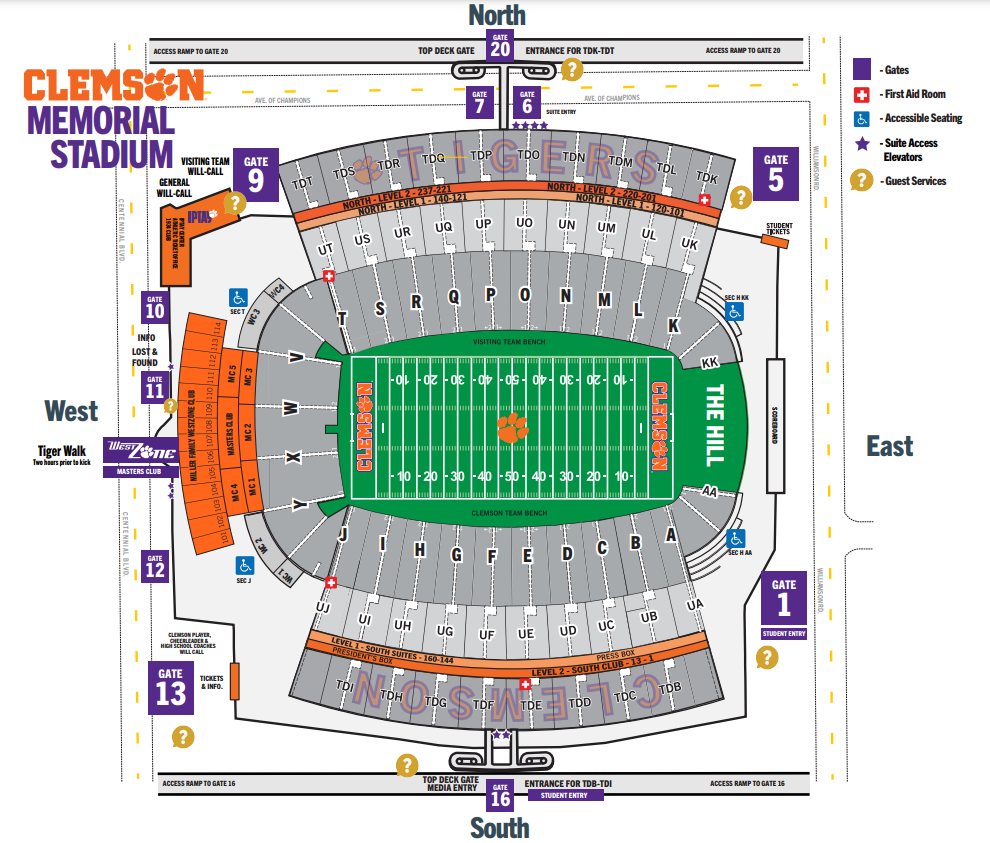 SAFETY NOTES
HEAT MANAGEMENT
Fans may bring in one clear unopened bottle of water
Fans encouraged to begin hydrating before arrival
Cool Zones available on both ends of the upper deck
Misting fans in lower deck are operational
Sunscreen is permitted
Bottles of water are available at concession stands for $3
---
WOODLAND CEMETERY
Woodland Cemetery remains closed as construction continues to reroute existing walkways, upgrade service drives, and add security and accessibility enhancements while honoring the lives of all who are buried there.
Fans parking on the south and east sides of the stadium, and those planning to enter Gate 16 on the south side of the stadium should allow additional time to enter Memorial Stadium. The Clemson Athletic Department is making every effort to ensure fans can enter and exit the stadium safely and expeditiously.
We request your continued patience as cemetery construction continues and appreciate your reverence and respect of all who are buried at Woodland. We will keep you updated on the construction progress over the coming weeks.
We look forward to improved accessibility and safety at Woodland Cemetery once the work is complete.